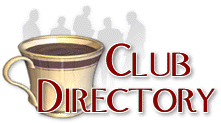 This directory lists over 2300 clubs related to Antiques and Collectibles
Click here to register your club -- Its FREE!
Find a club by name, starting with the letter:
A B C D E F G H I J K L M N O P Q R S T U V W X Y Z Other


Accredited Gemologists Association
Publications: Cornerstone

Contact: Accredited Gemologists Association
1115 South 900 East
Salt Lake City, UT 84105
Website

The Accredited Gemologists Association is a nonprofit research, education and ethics organization benefiting professional and avocation gemologists as well as consumer interest. Membership programs include advanced gemological education seminars, workshops, and the AGA Certified Gemological Laboratory Program.