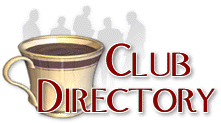 This directory lists over 2300 clubs related to Antiques and Collectibles
Click here to register your club -- Its FREE!
Find a club by name, starting with the letter:
A B C D E F G H I J K L M N O P Q R S T U V W X Y Z Other


Indiana Historical Radio Society
Contact: Fred Prohl
Website

ndiana Historical Radio is documented, preserved and displayed by radio collectors and historians Pulled together by the Indiana Historical Radio Society, 250 antique radio enthusiasts, primarily from Indiana and surrounding states, enjoy an avocation of seeking out, documenting, and restoring vintage radios.

The Indiana Historical Radio Society ( IHRS ) is visible through the following endeavors:

The Indiana Historic Radio Museum. The IHRS has supported displays of historic radio at a number of locations over the past thirty-one years. A museum of Historic Radio is now located in a permanent building in Ligonier, Indiana.

Radio Meets. The IHRS meets a minimum of four times a year at different Indiana locations. Highlights of the meetings include old radio swap meets, display and operating radio contests, auctions, and seminars.

The Indiana Historical Radio Society Bulletin. Members contribute articles on radio repair and historical documentation. The IHRS has been fortunate to have dedicated members who have consistently produced a Bulletin for the Society.

IHRS Membership. You will find the Society members eager to talk about radio repair, locating parts, radio history, and "the one that got away." We frequently have our nose in a radio (and may not recognize you) but grab our attention and we become a resource in a great network of individuals dedicated to preserving radios and radio history.