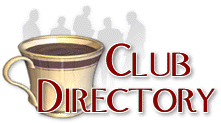 This directory lists over 2300 clubs related to Antiques and Collectibles
Click here to register your club -- Its FREE!
Find a club by name, starting with the letter:
A B C D E F G H I J K L M N O P Q R S T U V W X Y Z Other


Canadian Antique Phonograph Society
Contact: Canadian Antique Phonograph Society
Website

The interests of the 325+ members of the Canadian Antique Phonograph Society (CAPS) range across all aspects of sound recording and its history: phonographs and gramophones, all types of sound recordings of historic importance, ephemera and related memorabilia. There is particular emphasis placed on the history of recorded sound in Canada.

The inaugural meeting of what was eventually to become the Canadian Antique Phonograph Society was held on October 17, 1970 when a handful of collectors met in the Corvair Room of the Genosha Hotel in Oshawa, Ontario, with the expressed intention of forming a club. The roots of the Society go back years before.

A parallel interest in antique cars in the late 1950s brought together a like group of individuals around Toronto who discovered a shared interest in phonographs and old records. One of the more organizational types in the group, Paul Webb, decided that they should form some kind of society and in 1964 the Edison Phonograph and Horn Appreciation Society was born. This ad hoc group held occasional "recitals" at the homes of the 5 or 6 members from 1964 to 1970. The theme for each recital was generally agreed upon ahead of the meeting. At one recital, for example, everyone brought as many copies as they had in their collections of the various permutations and combinations of Arthur Collins' "The Preacher and the Bear". After playing dozens of them, they were all just lying on the floor at the end.

[Fargo] In late 1970, phonograph collector John Steffen from Oshawa, Ontario, invited the Toronto group to join with them to form a society known simply as the Phonograph Club. This was changed almost immediately to the Phonograph and Record Society to reflect the interests of collectors of records as well as phonographs. By 1975 the name had changed to Antique Phonograph Society and in 1985 the group became the Canadian Antique Phonograph Society.