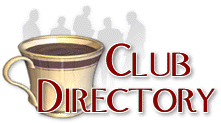 This directory lists over 2300 clubs related to Antiques and Collectibles
Click here to register your club -- Its FREE!
Find a club by name, starting with the letter:
A B C D E F G H I J K L M N O P Q R S T U V W X Y Z Other


Texas Antique Radio Club
Contact: Ed Engelken
Website

The Texas Antique Radio Club (TARC) was formed in San Antonio, Texas in 1996. TARC's goals are to serve the antique radio collecting interests of members located in the Austin-San Antonio region, as well as greater south and west Texas. Monthly meetings include presentations on some aspect of radio history, repair and restoration, or other radio related subjects. Meetings also include swapfest/flea market activity.