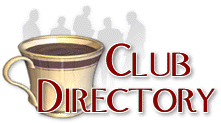 This directory lists over 2300 clubs related to Antiques and Collectibles
Click here to register your club -- Its FREE!
Find a club by name, starting with the letter:
A B C D E F G H I J K L M N O P Q R S T U V W X Y Z Other


Oklahoma Vintage Radio Collectors
Contact: President
Website

The objective of the Oklahoma Vintage Radio Collectors Club is to promote the preservation of the history, technology, and equipment of the early days of radio broadcasting and communications. This is achieved through member interaction, dissemination of information, and by providing a medium for the collection, renovation, restoration, and display of vintage radio equipment. Antique radio and test equipment is collected, restored and displayed by club members at monthly meetings and frequent swap meets.