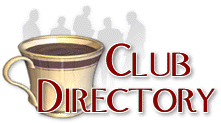 This directory lists over 2300 clubs related to Antiques and Collectibles
Click here to register your club -- Its FREE!
Find a club by name, starting with the letter:
A B C D E F G H I J K L M N O P Q R S T U V W X Y Z Other


Delaware Valley Historic Radio Club
Publications: Monthly: Oscillator

Contact: Delaware Valley Historic Radio Club
PO Box 5053
New Britain, PA 18901
Website

* All members receive a monthly subscription to, OSCILLATOR , DVHRC newsletter
* Annual dues are $20.00 (U. S. dollars).
* Foreign Memberships higher based on country.
* Membership runs Jan. through Dec.
* Visitors are always welcome.