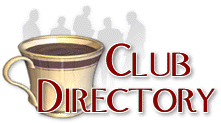 This directory lists over 2300 clubs related to Antiques and Collectibles
Click here to register your club -- Its FREE!
Find a club by name, starting with the letter:
A B C D E F G H I J K L M N O P Q R S T U V W X Y Z Other


Badge Collector's Circle
Contact: Frank Setchfield
57 Middleton Place
Loughborough, Le LE11 2BY GB
Website

The Badge Collectors Circle has been operating since 1980 and is a club for collectors of NON-military badges—Members collect anything from Trade Union to Robertson golly from pre war enamel to modern button badges. We function primarily through our news letters, which consist of news, auctions, adverts, articles etc.. and appear FOUR times a year. Through the newsletters and the articles in them we hope to act as a research tool in the ongoing struggle to discover more about our badges. Once a year, usually in the Autumn, we hold a Swapmeet enabling members to get together to exchange both badges and information.