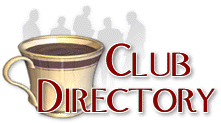 This directory lists over 2300 clubs related to Antiques and Collectibles
Click here to register your club -- Its FREE!
Find a club by name, starting with the letter:
A B C D E F G H I J K L M N O P Q R S T U V W X Y Z Other


Air Mail Society of New Zealand
Publications: Monthly
Contact: Alan Tunnicliffe
P.O.Box 29144
Fendalton, Christchurch BZ
Website

The Air Mail Society of New Zealand was founded in 1930 at the commencement of regular aerial services in this country. It has since then reflected this nations abiding interest in everything aviation. From 1935 the Society has published a regular magazine and then it wasn't long before the first of a series of handbook was published. This first edition dealing with the Internal flights of New Zealand has since been followed by others dealing with external flights, aviation cinderellas and updates on earlier volumes.

The Society while based in Christchurch, has one quarter of its members elsewhere in New Zealand and another half residing in overseas countries. These members are kept in touch through a monthly newsletter and regular postal auctions.