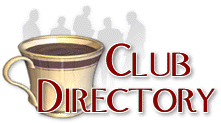 This directory lists over 2300 clubs related to Antiques and Collectibles
Click here to register your club -- Its FREE!
Find a club by name, starting with the letter:
A B C D E F G H I J K L M N O P Q R S T U V W X Y Z Other


United States Stamp Society
Contact: Joann Lenz, Secretary
Website

Welcome to the official web site for the United States Stamp Society. We are a non-profit, volunteer-run association of collectors to promote the study of the philatelic output of the Bureau of Engraving and Printing and of postage and revenue stamped paper produced by others for use in the United States and U.S. administered areas.