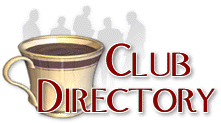 This directory lists over 2300 clubs related to Antiques and Collectibles
Click here to register your club -- Its FREE!
Find a club by name, starting with the letter:
A B C D E F G H I J K L M N O P Q R S T U V W X Y Z Other


Fair Organ Preservation Society: Northwest Group
Contact: Fair Organ Preservation Society: Northwest Group
Website


The Fair Organ Preservation Society (FOPS) are an organization whose aim is to encourage an interest in Fair Organs and mechanical music in general.

The North West Group meetings are usually held on the 3rd Friday of the month, from September to March at the Shawe Hall Community Centre on Church Road Urmston Manchester, commencing at 7:30pm, when everyone interested in our hobby is assured of a warm welcome.

Meetings are generally well attended by 35 to 50 members and friends. After a short business session, we have an interval of about 30 minutes when refreshments are served. This is usually followed by an illustrated talk, a film/video show or a quiz, finishing around 10:15pm.

At the annual general meeting, held in January, we also have an auction of unwanted items, which is conducted by member George Howard, resulting in a very welcome cash addition to group funds.