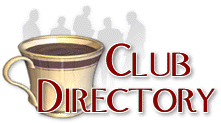 This directory lists over 2300 clubs related to Antiques and Collectibles
Click here to register your club -- Its FREE!
Find a club by name, starting with the letter:
A B C D E F G H I J K L M N O P Q R S T U V W X Y Z Other


American Association of Private Railroad Car Owners, Inc
Publications: Private Varnish Magazine
Contact: Diane Elliott
630-B Constitution Ave., NE
Washington, DC 20002 US
Phone: 202-547-5696
Fax: 202-547-5623
Website

In years gone by, first-class service aboard the fine trains of North America was a given, included with the purchase of your ticket. Those trains of yesteryear are just fond memories now, but you can still find the service-along with superb cuisine and comfortable appointments aboard private cars available for charter by members of the American Association of Private Railroad Car Owners. To find out more about the luxurious world of 'private varnish' explore The Private Rail Car Experience. Ready for a trip? Learn about the cars available for charter You'll find the car, or cars, which best fit the needs and requirements for your rail trip of a lifetime.

Not quite ready to charter a car? Consider a Travel Opportunity with one of our members. This can be a very reasonable way to experience the luxury and magic of travel by private rail car. You can also be an armchair traveler by subscribing to Private Varnish.