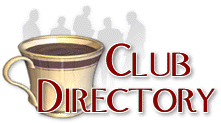 This directory lists over 2300 clubs related to Antiques and Collectibles
Click here to register your club -- Its FREE!
Find a club by name, starting with the letter:
A B C D E F G H I J K L M N O P Q R S T U V W X Y Z Other


Baltimore Antique Bottle Club
Contact: Steve Charing
PO Box 36061
Towson, MD 21286-6061 US
Phone: (410) 531-9459
Website

The Baltimore Antique Bottle Club, Inc. is a nonprofit organization whose mission is to educate the public about antique bottle collecting and to promote the hobby. Over the years, the club has become one of the strongest and most enduring bottle clubs in the country. The hard work of so many members since its inception has led to the club's success. The club provides a great opportunity to learn about an interesting, historical and potentially lucrative hobby and to make new friends and have a good time. . For more on how the club evolved, click the History link. Interest in bottle collecting in the Baltimore area has been generated by the fact that Baltimore had such a long, rich history in the manufacture of bottles and other glass products. Glass production ranked as Baltimore's 3rd top industry at its peak during the 19th century. The Baltimore Glassworks, for example, was an excellent producer of a broad variety of bottles during that era. Many of these bottles were dug by individuals in sites all over the city and surrounding counties. This led to the fascinating hobby of antique bottle collecting with a predominant focus on bottles manufactured in Baltimore.. The club meets usually on the 2nd Friday of the month at 7:30 p.m. from September through June in the cafeteria at Loch Raven High School. Every meeting includes a program, which may involve a speaker presentation or participation from the members. Prior to the meetings, members bring in bottles from their collections or those recently acquired to display or sell. In addition, other opportunities exist at the meetings to show and discuss bottles, socialize, answer questions from new collectors, and participate in drawings for bottle prizes. A popular feature is the Theme Bottle segment where members bring in bottles that are connected in some way-even marginally-to an event in the month the meeting takes place. The club provides refreshments.