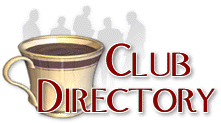 This directory lists over 2300 clubs related to Antiques and Collectibles
Click here to register your club -- Its FREE!
Find a club by name, starting with the letter:
A B C D E F G H I J K L M N O P Q R S T U V W X Y Z Other


Canadian Aviation Historical Society
Contact: Sheldon Benner
Website

The Canadian Aviation Historical Society is the oldest and largest organization dedicated to the celebration and documentation of Canada's flying heritage. Members receive the CAHS Journal, Canada's premier aviation history magazine, regular newsletters, and an invitation to participate in the local activities of 10 regional chapters.