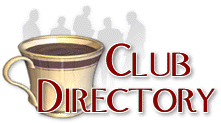 This directory lists over 2300 clubs related to Antiques and Collectibles
Click here to register your club -- Its FREE!
Find a club by name, starting with the letter:
A B C D E F G H I J K L M N O P Q R S T U V W X Y Z Other


California Historical Artillery Society
Contact: Wes Faubel
Website

Activities are scheduled throughout the year,CHAS members can expect to participate in a variety of historical interpretations. From the Mexican War of the 1840's at the customs house in Monterey California to the civil war artillery team driving at Gettysburg, Penn., to mobilization aboard a modern U.S. Army landing craft for shuttling horses and equipage across San Francisco Bay, there is never a dull moment in the service of CHAS. We have even more planned for next year!

The Our current group has over 40 horses and 4 full scale cannons. We normally field three 6-ups with outriders or four 4-ups with outriders. (When our entire group is fielded we can have four 6-ups). Our cannons include two 3" Ordnance Rifles, one 10 pound parrot rifle and a 10 pound howitizer. We also have three limbers, a cassion, supply wagon and an ambulance. Chas has about 100 members from the central California area. We are the largest mounted artillery group in the United States.