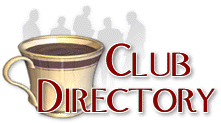 This directory lists over 2300 clubs related to Antiques and Collectibles
Click here to register your club -- Its FREE!
Find a club by name, starting with the letter:
A B C D E F G H I J K L M N O P Q R S T U V W X Y Z Other


Canadian Classic Chevelles & Beaumonts
Publications: The Canadian Chevelle Beaumont News (For Members Only)
Contact: Don Earnshaw
2401 Wilcox Terrace
Victoria, BC V8Z 5R7 CA
Phone: 250-652-2149
Fax: 250-652-2197
Website

Is to support and promote the preservation, restoration, and modification of Chevelles, El Caminos, Beaumonts and the many GMC derivatives of the El Camino. This club is here to help its members with any questions about their vehicles. That's our club philosophy.