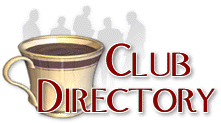 This directory lists over 2300 clubs related to Antiques and Collectibles
Click here to register your club -- Its FREE!
Find a club by name, starting with the letter:
A B C D E F G H I J K L M N O P Q R S T U V W X Y Z Other


Bead Society of Los Angeles
Contact: Contact us!
P.O. Box 241874
Los Angeles, CA 900274
Website

The Bead Society of Los Angeles, the oldest of its kind in the United States. In 2005 we will celebrate our 30th anniversary. The Bead Society of Los Angeles is a non-profit 501(c) organization that supports the study, discussion, and shared knowledge of beads in the United States and throughout the world. The organization has undergone many changes over the years as we grew from fifteen to more than 300 strong.

The Mission of the Bead Society of Los Angeles is to disseminate the knowledge of beads and all related subjects. Our goal is to bring that knowledge to as many people worldwide as possible.