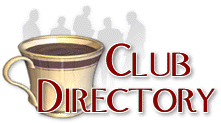 This directory lists over 2300 clubs related to Antiques and Collectibles
Click here to register your club -- Its FREE!
Find a club by name, starting with the letter:
A B C D E F G H I J K L M N O P Q R S T U V W X Y Z Other


Bead Society of Greater Washington
Contact: Bead Society of Greater Washington
The Jenifer Building
400 Seventh Street Northwest, Ground Floo
Washington, DC 20004
Website

BSGW and
The Bead Museum
together are dedicated to
furthering the understanding
and appreciation of beads--
personal ornaments that
not only express human
aesthetic impulses but
embody deep symbolic
significance, and are among
mankind's earliest, most
universal, and most enduring
creative achievements.
The Bead Museum promotes
cultural understanding through
the interpretation of beads.