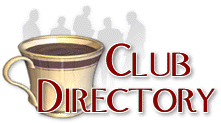 This directory lists over 2300 clubs related to Antiques and Collectibles
Click here to register your club -- Its FREE!
Find a club by name, starting with the letter:
A B C D E F G H I J K L M N O P Q R S T U V W X Y Z Other


Indiana Bead Society
Contact: Indiana Bead Society
Website



The Indiana Bead Society was founded in 1997 by a small group of people dedicated to bringing together individuals interested in all aspects of beads and beadwork.

Our current membership brings together many individuals interested in the history of beads and beading, collecting beads, making beads, and the use of beads in jewelry pieces, wearable art and displays.