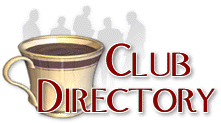 This directory lists over 2300 clubs related to Antiques and Collectibles
Click here to register your club -- Its FREE!
Find a club by name, starting with the letter:
A B C D E F G H I J K L M N O P Q R S T U V W X Y Z Other


Baltimore Bead Society
Contact: Baltimore Bead Society
8510 HIgh Ridge Road
Elliicott City, MD 21043
Website

The Baltimore Bead Society is a regional organization of bead enthusiasts who collect and share the history of beads and beadwork techniques in a supportive environment. The Baltimore Bead Society is a non-profit educational corporation allowed by law under IRS Section 501 (c)(3).

Our members meet on the Second Tuesday of months September to June at the Howard County Center for Arts to share bead information. Visitors are welcome. Social Time: 7:00 p.m., Program Time: 7:30 p.m. to 9:00 p.m.