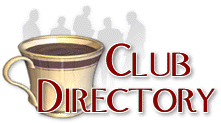 This directory lists over 2300 clubs related to Antiques and Collectibles
Click here to register your club -- Its FREE!
Find a club by name, starting with the letter:
A B C D E F G H I J K L M N O P Q R S T U V W X Y Z Other


Bead Society of Orange County
Contact: Bead Society of Orange County
2002 North Main Street
Santa Ana, CA 72706
Website

he Bead Society of Orange County (BSOC) was established in February of 1994 as an Affiliate Group of the Bowers Museum of Cultural Art.

From a small group of ten women who shared a common interest in beads, the Bead Society has now grown into a group of more than 200 members.

The mission statement of the BSOC is to provide the community an educational resource in the artistic, historical and inter-cultural significance of beads. Our support of the Bowers Museum includes fundraising and volunteer support of museum programs.

Our membership fills an entire spectrum of related bead interests -- and our roster includes many avid collectors, historians, retailers, crafters, jewelers, importers and world travelers, all in the name of beads.

We invite you to find out more about us. Click on the navagation bar headings at the top and the bottom of this page to get information about membership, events, workshops and links to other bead sites.