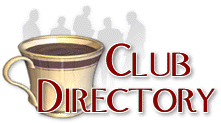 This directory lists over 2300 clubs related to Antiques and Collectibles
Click here to register your club -- Its FREE!
Find a club by name, starting with the letter:
A B C D E F G H I J K L M N O P Q R S T U V W X Y Z Other


Bead Society of Pensylvania
Contact: Secretary
Website

The Welcome to the Bead Society of Eastern Pennsylvania

The mission of the
Bead Society of Eastern Pennsylvania is to encourage and promote interest in beadwork and its related fields through educational programs and social activities.

We hope that our passion for beads and beadwork is evident and contagious.
We host Demonstrations, Workshops, Show and Tell, Bead Retreats... Plus Much More!