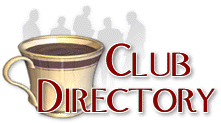 This directory lists over 2300 clubs related to Antiques and Collectibles
Click here to register your club -- Its FREE!
Find a club by name, starting with the letter:
A B C D E F G H I J K L M N O P Q R S T U V W X Y Z Other


Madison Bead Society
Contact: Madison Bead Society
Website

The Madison Bead Society began in 1992 as a vehicle to meet other people fascinated with beads, to share techniques, and generally celebrate the love of beadwork and bead-collecting.

The Society sponsors monthly meetings September-May, and currently organizes one sale & show each year. Membership is open to anyone with an interest in beads and/or beading.