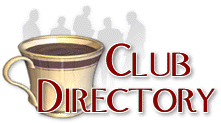 This directory lists over 2300 clubs related to Antiques and Collectibles
Click here to register your club -- Its FREE!
Find a club by name, starting with the letter:
A B C D E F G H I J K L M N O P Q R S T U V W X Y Z Other


Bead Society of Central Florida
Contact: Bead Society of Central Florida
Website

CF is a not-for-profit organization founded October 1988 to study and disseminate knowledge about beads and beadwork. We welcome visitors and new members. There are opportunities for learning, teaching, organizing and leadership.