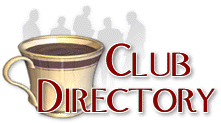 This directory lists over 2300 clubs related to Antiques and Collectibles
Click here to register your club -- Its FREE!
Find a club by name, starting with the letter:
A B C D E F G H I J K L M N O P Q R S T U V W X Y Z Other


Bead Society of Southeastern Virginia
Contact: Bead Society of Southeastern Virginia
PO Box 580
Norg, VA 23127
Website

The Bead Society of Southeastern Virginia believes in enriching lives through sharing our enjoyment, knowledge and appreciation of beads and creative beading techniques.

We invite you to join us at the BSSV, where you'll have the opportunity to learn lots more about beads, teach others what you have learned, trade bead stories and have a LOT of fun! Come to the next meeting and we'll show you what fun and enrichment you can enjoy when you get involved.

We've been meeting since 1998 and already boast more than 75 area members. So you see that the interest is here. All that we lack is your presence. We have developed this website as an easy source of information regarding every aspect of our society. All ideas and comments are welcome! Thank you for looking!!