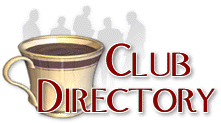 This directory lists over 2300 clubs related to Antiques and Collectibles
Click here to register your club -- Its FREE!
Find a club by name, starting with the letter:
A B C D E F G H I J K L M N O P Q R S T U V W X Y Z Other


Bead Society of Greater Kansas City
Contact: Betsy Michalski
Website

The mission of the
Bead Society of Greater Kansas City is
to promote interest in,
to champion awareness about,
to enhance knowledge of, and
to advance the study of beads.

Members represent persons of varied interest related to beads and beading.

The Bead Society is open to all persons.