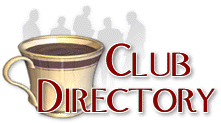 This directory lists over 2300 clubs related to Antiques and Collectibles
Click here to register your club -- Its FREE!
Find a club by name, starting with the letter:
A B C D E F G H I J K L M N O P Q R S T U V W X Y Z Other


Liberty Bell Matchcover Club
Contact: Liberty Bell Matchcover Club
Website

On-line home of the greater Philadelphia, PA regional affiliate of the Rathkamp Matchcover Society. We welcome members who want to share matches, information about matches, and fun social interaction with other collectors of match-related items. We hold 5 meetings per year in the Philly area with a published newsletter, and a mail-order auction. Club membership is $10 per year, giving you newsletters, participation in auctions, classified advertising in the newsletter, and full access to all features of this site.

ALL new club applicants to this groupsite must have a complete Yahoo profile on file. New club applicants should contact the moderator for a club application and further information. All paid up existing club members with a complete Yahoo profile will be granted access to this Yahoo group upon request. Match hobby newsletter editors also receive free access. This club helps people dispose of estate match collections, accepts match donations, and provides free library exhibits and lectures about the match hobby and how matches record the history of our culture. All that, and the fellowship of a great bunch of people, too! Wotta deal!!!