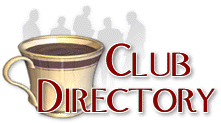 This directory lists over 2300 clubs related to Antiques and Collectibles
Click here to register your club -- Its FREE!
Find a club by name, starting with the letter:
A B C D E F G H I J K L M N O P Q R S T U V W X Y Z Other


California State Button Society
Contact: Clare Bazley
Website



Does Button Collecting sound interesting to you? Would you like to meet with others who do have an interest in buttons and would love to get you more acquainted with this wonderful hobby?
By clicking on the button to the right you will get all the information you'd like and even read the most recent club news from our member clubs around the state.