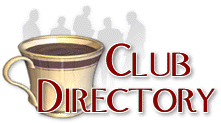 This directory lists over 2300 clubs related to Antiques and Collectibles
Click here to register your club -- Its FREE!
Find a club by name, starting with the letter:
A B C D E F G H I J K L M N O P Q R S T U V W X Y Z Other


Delahaye Club
Contact: Etienne ANGLADE
LA COUDREE
22, rue du bois Prieur
ABONDANT, 28 28410 FR
Phone: 02 37 48 71 52
Fax: 02 37 48 71 52
Website

Owning a DELAHAYE vehicle is not necessary to be a member of the Club
The subscription for members inside Euro zone costs 80 € a year, or
120 U.S. Dollars (or equivalent) for members outside Euro zone.