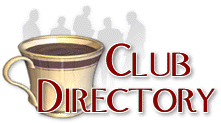 This directory lists over 2300 clubs related to Antiques and Collectibles
Click here to register your club -- Its FREE!
Find a club by name, starting with the letter:
A B C D E F G H I J K L M N O P Q R S T U V W X Y Z Other


D.L.T.C. - Dog Licenses Tokens, & Collars

Contact: Diane Bandy
Diane Bandy
9531 Parkedge Dr.
Allison Park, PA 15101 US
Website

This site was created for the dog license collector and to stimulate interest in dog and cat (tax) license tag collecting. There will also be information about antique dog and cat collars, rabies tags, miniature dog collar locks and dog related tokens. The club DLTC has an interactive component (with a paid membership) and is highly informative, with eBay Action updates and snipings, dog law, facts and trivia.