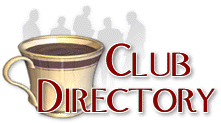 This directory lists over 2300 clubs related to Antiques and Collectibles
Click here to register your club -- Its FREE!
Find a club by name, starting with the letter:
A B C D E F G H I J K L M N O P Q R S T U V W X Y Z Other


Always Jukin' (NP)
Publications: Always Jukin' Magazin
Contact: Michael F. Baute
404 E. Howell St.
#100
Seattle, WA 98122 US
Fax: 206-652-4007
Website

A monthly Hobby magazine devoted to Jukeboxes. For the casual or serious collector. It Features: Service related questions from subscribers that are answered each month in the Dr. Know-It-All column. A different Jukebox is featured each month with photos and history of that particular model. Photos and stories of people's collections. Tech Hints. Show Reports. Coming Events. Jukebox prices. And lots of ads for Jukeboxes, Jukebox parts, Soda Machines, Slot Machines, Pinball Machines, Arcade Machines, and all other Coin-Op related items.

Always Jukin' is 56 pages every month. We encourage subscribers to send pictures of their jukeboxes and family, friends, pets & kids to be published in Always Jukin' & featured on the cover. We also encourage friendly letters re. 'Your Jukebox History'

Always Jukin', monthly publication, $36 per year in U.S., $44 foreign surface, $100 foreign airmail.