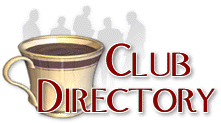 This directory lists over 2300 clubs related to Antiques and Collectibles
Click here to register your club -- Its FREE!
Find a club by name, starting with the letter:
A B C D E F G H I J K L M N O P Q R S T U V W X Y Z Other


Calendar Collector Society CCS

Contact: Calendar Collector Society CCS
18222 Flower Hill Way #299
Gaithersburg, MD 20879 US
Phone: (301) 926-8663
Website

The Calendar Collectors Society, established in 1995, is an organization dedicated to the study and preservation of calendars and calendar art. The history of calendars is tremendously interesting and the calendar collecting area can take various forms. Some examples are wall calendars, perpetual calendars, desk calendars, pocket calendars, postcard calendars, novelty calendars (calendars made from non-traditional materials, usually die-cuts or 3-dimensional), calendar plates, calendar towels, almanacs, diaries, and schedules.

Collectors and dealers are also assisted in buying and selling calendars and other related collectibles through the very inexpensive classified advertising offered on the website. 50-word advertisement for $10/year!

The Calendar Collectors Society is operated by Americana Resources, Inc., an antiques and collectibles corporation located in Gaithersburg, Maryland.