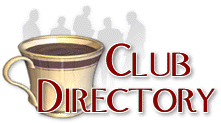 This directory lists over 2300 clubs related to Antiques and Collectibles
Click here to register your club -- Its FREE!
Find a club by name, starting with the letter:
A B C D E F G H I J K L M N O P Q R S T U V W X Y Z Other


EAA Vintage Aircraft Association
Contact: Henry G. Frautschy, Executive Director
PO Box 3086
Oshkosh, WI 54903-3086 US
Fax: 920-426-4828
Website

Nearly 10,000 members strong, the Vintage Aircraft Association brings together people from around the world who share an interest in the aircraft of yesterday. This common bond is sustained by VAA activities and publications.

Since it was established in 1971, the association has been working to keep aviation history alive. Originally known as the EAA Antique/Classic Division, VAA has the support of the internationally renowned EAA. The strength of this premiere aviation organization helps VAA further the causes of vintage aviation.