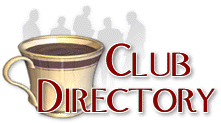 This directory lists over 2300 clubs related to Antiques and Collectibles
Click here to register your club -- Its FREE!
Find a club by name, starting with the letter:
A B C D E F G H I J K L M N O P Q R S T U V W X Y Z Other


Farm Machinery Advertising Collectors (FMAC)
Publications: Quarterly: Farm Machinery Advertising Collectors Newsletter
Contact: David Schnakenberg
10108 Tamarack Dr.
Vienna, VA 22182-1843 US
Fax: 413-825-0586
Website

The Farm Machinery Advertising Collectors (FMAC) is a privately owned network of collectors, dealers, historians and preservationists of all forms of farm machinery advertising and memorabilia with interests spanning all manufacturers and time periods.

If you believe you have a unique item that you collect, peruse our listing and see if anything fills the niche'. If not, another category can always be added to the growing field of Farm Machinery Collectors.

By joining FMAC, you will surely find others who have similar interests and items to buy, sell and trade...or help you learn more about your collectibles.