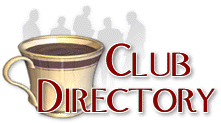 This directory lists over 2300 clubs related to Antiques and Collectibles
Click here to register your club -- Its FREE!
Find a club by name, starting with the letter:
A B C D E F G H I J K L M N O P Q R S T U V W X Y Z Other


Canadian Corkscrew Collectors Club
Contact: Milt Becker
PO Box 5295
Englewood, NJ 7631 US
Website

The Canadian Corkscrew Collectors Club ("CCCC") was founded in the Spring of 1981. An enthusiastic group of corkscrew collectors who belonged to a Canadian Wine Club, answered the advertisement placed in their magazine, the Wine Tidings. Dave Dakers who was living in Ottawa at the time called his fellow Opimian Society members together to form an organisation to foster and promote further interest in this "twisted" hobby.

From this innocent beginning of the CCCC club membership has grown from the initial group of 15 to more than 270 by 1999. Membership is Growing each year and in addition to about 30 Canadians the Club now has adherents in most European Countries and elsewhere covering about 30 Countries altogether. Annual membership fees are $30.00 U.S. Membership is open to anyone, anywhere in the world, whether they have two or two thousand pieces in their collection. Interest in corkscrews is the only criteria.