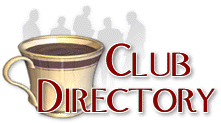 This directory lists over 2300 clubs related to Antiques and Collectibles
Click here to register your club -- Its FREE!
Find a club by name, starting with the letter:
A B C D E F G H I J K L M N O P Q R S T U V W X Y Z Other


Lincoln Highway Association
Publications: Quarterly: Lincoln Highway Forum
Contact: David L. Hay
402 W. Washington St.
South Bend, IN 46601
Phone: (574) 233-0393
Website

Statement of Purpose
The Lincoln Highway Association (LHA) shall identify, preserve, interpret and improve access to the Lincoln Highway and its associated sites.


The LHA shall pursue the appropriate measures to prevent further deterioration, destruction or alteration of the remaining sections of the Lincoln Highway.


The LHA shall publicize and seek public awareness of its goals and activities for preserving, promoting and developing the Lincoln Highway.


The LHA shall facilitate research about the Lincoln Highway, and publish a magazine for articles and news of activity relevant to the LHA.


The LHA shall work with local communities and businesses to promote the Lincoln Highway as a tourism destination.


The LHA shall be exclusively charitable and educational within the meaning of Section 501(c)(3) of the Internal Revenue Code.