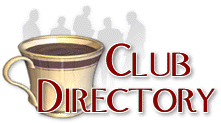 This directory lists over 2300 clubs related to Antiques and Collectibles
Click here to register your club -- Its FREE!
Find a club by name, starting with the letter:
A B C D E F G H I J K L M N O P Q R S T U V W X Y Z Other


H.C. Fry Glass Society
Publications: The Shards

Contact: Judy
PO Box 41
Beaver, PA 15009 US
Website

The H. C. Fry Glass Society was formed for the study, preservation of information and appreciation of the glass made at the H. C. Fry Glass Co. in Rochester, Pa. The glass produced was of the finest quality, made by dmost proficient artisans from the U. S. and Europe. The finished products were shipped worldwide.