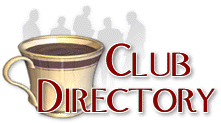 This directory lists over 2300 clubs related to Antiques and Collectibles
Click here to register your club -- Its FREE!
Find a club by name, starting with the letter:
A B C D E F G H I J K L M N O P Q R S T U V W X Y Z Other


Pan-American 1901 Exposition Club
Focus: 1901 Pan American Exposition
Contact: Michelle Bewley
183 Lamarck Drive
Snyder, NY 14226 US
Website

Founded in 1994, the Pan-American 1901 Exposition Club (PAEC) is an informal group of collectors, scholars, and history enthusiasts who have an interest in Buffalo's Pan-American Exposition, its memorabilia, its significance within Fair and Exposition history, as well as the importance of the Exposition in American and Western New York history.

PAEC members meet regularly throughout the year to learn more about the "Pan-Am." They strive to disseminate information about this world's fair and arrange programs for the club that promote continuing knowledge with regard to all aspects of the 1901 Pan-American Exposition.