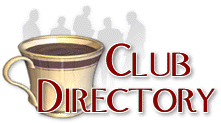 This directory lists over 2300 clubs related to Antiques and Collectibles
Click here to register your club -- Its FREE!
Find a club by name, starting with the letter:
A B C D E F G H I J K L M N O P Q R S T U V W X Y Z Other


Early American Industries Association.
Contact: Elton W. Hall
167 Bakerville Road
South Dartmouth, MA 02748-4198 US
Website

Founded in 1933 to encourage the study and better understanding of early American industry, in the home, in the shop, on the farm, and on the sea.

Whether you are a tool collector, a tool dealer, a scholar, a user of tools or just like finding out about tools, there will be something to interest you.

Membership of EAIA is open to any person or organization sharing its interests and purpose.