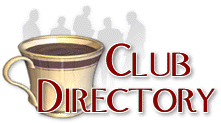 This directory lists over 2300 clubs related to Antiques and Collectibles
Click here to register your club -- Its FREE!
Find a club by name, starting with the letter:
A B C D E F G H I J K L M N O P Q R S T U V W X Y Z Other


United Kingdom Slide Rule Circle
Publications: Newwsletters
Contact: Secrettary
189 Mildenhall Road
Fordham
Ely, Ca CB7 5NW GB
Website

The UKSRC was formed in the mid 1990's as an informal group of slide rule enthusiasts with the aim of providing a forum for discussion and contact between members.

In order to achieve this we started, in 1998, with the publication of our newsletter Skid Stick on a twice yearly basis. Skid Stick is now distributed three times a year to over 100 members worldwide keeping subscribers in touch with current news and events. The newsletter also provides an opportunity for members to make enquiries and notify fellow collectors of research projects they have in hand. It also provides contact with our European colleagues who are members of the Dutch Kring and German RST.

The UKSRC is conscious of the fact that collectors come with varying levels of interest and knowledge and we encourage the uninitiated to use the pages of Skid Stick for the answers to their basic problems, our philosophy being to help, inform and entertain all who have an interest in our subject.

The UKSRC has found it preferable to retain its informal and friendly atmosphere and has no elected officers, various functions being carried out on a voluntary basis. In the autumn of 2000 we published the first of our annual Slide Rule Gazettes. This magazine usually has some 100 pages and contains articles that are too long for inclusion in the newsletter. We have been very gratified to receive all the contributions from home and overseas that have led to its success. The Gazette and other UKSRC publications are available to all and charged for separately as they do not form part of members' subscriptions to the UKSRC and the newsletter.