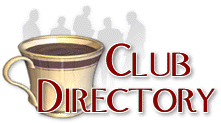 This directory lists over 2300 clubs related to Antiques and Collectibles
Click here to register your club -- Its FREE!
Find a club by name, starting with the letter:
A B C D E F G H I J K L M N O P Q R S T U V W X Y Z Other


Oklahoma Steam Threshers and Gas Engine Assn, Inc.
Contact: Beverly Atteberry
PO Box 472
Pawnee, OK 74058 US
Phone: 918-605-1913
Website

Our show will be held on May 4,5,6 2007 in Pawnee, Oklahoma. Our featured tractor of the year is CATERPILLAR - hosting the Antique Caterpillar Machinery Owners Club spring event. Our featured gas engine of the year is WITTE. Our featured Steam Engine of the year is a 1915 - 65 hp J.I.Case Steam Engine owned by the same family for 60 years. We have hundreds of gas tractors and engines on display during the show. We have many events indoor and outdoors including: Wheat Threshing, Corn Meal Grinding, Steam Sawmill/Shingle MIlls, National Historic Registry-Corliss Steam Engine/Generator, Line Powered Machine Shop, Antique Cars, Antique Trucks, Working gas engines, Blacksmith, STEAM ENGINE INCLINE DEMONSTRATION, Arts and Crafts, Toy Show, Plowing, Road Grading, Rock Crushing, Antique Cook Shack Sanctioned Kids Pedal Pull, Rope Making, QUILTING EXHIBITS/CLASSES, Flea Market. We have food vendors on the grounds. We have camping (electric, water and primitive available. Entertainment this year will be the ZOOGRASS BOYS on Saturday & Sunday. Church services are held on Sunday (Catholic at 7:00 a.m. and Protestant at 8:00 a.m. A shuttle from downtown Pawnee on Saturday. Ground trains are available all three days of the show providing transportation to different activities.