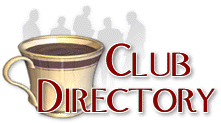 This directory lists over 2300 clubs related to Antiques and Collectibles
Click here to register your club -- Its FREE!
Find a club by name, starting with the letter:
A B C D E F G H I J K L M N O P Q R S T U V W X Y Z Other


Girder and Panel Collectors Club
Contact: Girder and Panel Collectors Club
P.O. Box 494
Bolton, MA 01740
Website

The Girder and Panel Collectors Club was something I started in 1994 to document Kenner's famous Girder and Panel construction sets, which were so popular from the late 1950s to mid 1960s. I intended to publish a quarterly newsletter, documenting the history of this toy line, how it came about, the many different sets that were made, and where you could find these "antiques" today. I was able to publish three newsletters, but some things in my life changed and I was unable to spend the time it took to research, write and publish the newsletters.