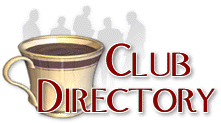 This directory lists over 2300 clubs related to Antiques and Collectibles
Click here to register your club -- Its FREE!
Find a club by name, starting with the letter:
A B C D E F G H I J K L M N O P Q R S T U V W X Y Z Other


Hardware Companies Kollectors' Klub, The
Publications: Newsletter: Winchester Keen Kutter Diamond Edge Chronicles
Contact: Barbara Huhn, Mem.
P.O. Box 285
Pacific, MO 63069-0285
Phone: 636-257-2926
Website

A non-profit organization to serve as an interactive information distribution center for collectors of E.C. Simmons/Keen Kutter, Winchester Store (non-gun), A.F. Shapleigh/Diamond Edge, Hibbard, and other hardware store brands.