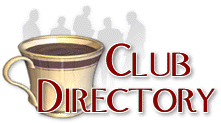 This directory lists over 2300 clubs related to Antiques and Collectibles
Click here to register your club -- Its FREE!
Find a club by name, starting with the letter:
A B C D E F G H I J K L M N O P Q R S T U V W X Y Z Other


Old Ford Truck Club
Contact: Tim Moorehouse
3597 Whitehills Dr.
Amelia, OH 45102
Website

The Old Ford Truck Club is based in Cincinnati, Ohio. We hold monthly meetings and publish a newsletter once a month. We share tech tips and swap parts among members. The Old Ford Truck Club was founded in 1989. The Club was established in order for members to share parts and new ideas.