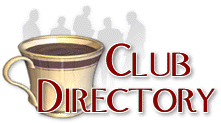 This directory lists over 2300 clubs related to Antiques and Collectibles
Click here to register your club -- Its FREE!
Find a club by name, starting with the letter:
A B C D E F G H I J K L M N O P Q R S T U V W X Y Z Other


U.S. Cavalry Association & U.S. Cavalry Memorial Research Library
Publications: Journal: Cavalry Journal
Contact: Patricia S. Bright, Ex. Dir.
Bldg. 247, Cameron St.
P.O. Box 2325
Fort Riley, KS 66442-0325
Phone: 785-784-5759
Fax: 785-784-5797
Website

Mission is to preserve for posterity the history, equipment, and traditions of the US Cavalry from its inception as a horse mounted force during the Revolutionary War into the 21st century; sponsors the US Cavalry Museum.