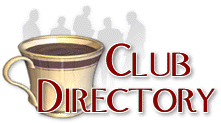 This directory lists over 2300 clubs related to Antiques and Collectibles
Click here to register your club -- Its FREE!
Find a club by name, starting with the letter:
A B C D E F G H I J K L M N O P Q R S T U V W X Y Z Other


W.C. Fields Fan Club
Publications: Newsletter: Lompoc Picayune-Intelligencer
Contact: Ted Wioncek, Jr.
P.O. Box 506
Stratford, NJ 08084-0506
Website

Official W.C. Fields fan club; members receive an 8 x 10 photo of Fields, membership card, W.C. Fields films list, discounts on related memorabilia, newsletter four times per year, free classifieds to buy/sell W.C. Fields collectibles.