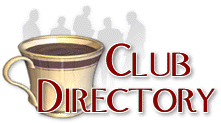 This directory lists over 2300 clubs related to Antiques and Collectibles
Click here to register your club -- Its FREE!
Find a club by name, starting with the letter:
A B C D E F G H I J K L M N O P Q R S T U V W X Y Z Other


Jewelers of America, Inc.

Contact: Jewelers of America, Inc.
52 Vanderbilt Ave, 19th Floor
New York, NY 10017
Website

A national association of retail jewelers; part of their mission is to provide consumers with information and education about fine jewelry; Web site offers information on how to select a jeweler, consumer news, test your jewelry knowledge.