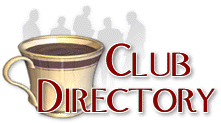 This directory lists over 2300 clubs related to Antiques and Collectibles
Click here to register your club -- Its FREE!
Find a club by name, starting with the letter:
A B C D E F G H I J K L M N O P Q R S T U V W X Y Z Other


George S. Patton, Jr. Historical Society
Publications: Newsletter: Patton Blade, The
Contact: Charles M. Province, Pres.
17010 South Potter Road
Oregon City, OR 97045 US
Website

Founded in 1970 for the purpose of perpetuating the history of the achievements of General Patton and the men who served with him.