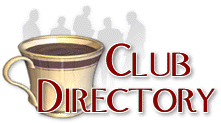 This directory lists over 2300 clubs related to Antiques and Collectibles
Click here to register your club -- Its FREE!
Find a club by name, starting with the letter:
A B C D E F G H I J K L M N O P Q R S T U V W X Y Z Other


Illinois Matchbox Collectors Club
Publications: Matchbox Magazine
Contact: Bob Neumann, Sec.
P.O. Box 1582
Oak Lawn, IL 60455
Phone: 630-257-0579
Website

The Illinois "Matchbox" Collector's Club is a non-profit club based in the state of Illinois to promote collecting of "Matchbox" toys of all series. We have members from all over the world! The club publishes six magazines per year, holds bi-monthly meetings and swap meets usually at homes of collectors, allowing us to view each other's collections and discuss the hobby.

The club is also involved with charity work with the Pediatric Oncology Treasure Chest Foundation and the Cystic Fibrosis Great Strides program.

Membership in the club is $15.00 per year for members within the United States, and $20.00 U.S. per year for members outside of the United States.

Membership includes six "Matchbox" magazines delivered to your home as well as other offers that are provided to our club directly from "Matchbox" including the annual 1-75 catalog/poster. You are also eligible to obtain a free "Matchbox" model just for signing up. The free model is a Chevrolet Police Tahoe manufactured specifically by "Matchbox" to promote club membership. This model is a "Code 1" promotional, completely manufactured at the "Matchbox" factory. You can pick up your free model at the next club meeting or have it mailed to you for an additional charge of $5.00 to your $15.00 membership fee.