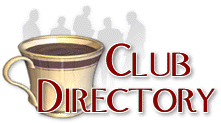 This directory lists over 2300 clubs related to Antiques and Collectibles
Click here to register your club -- Its FREE!
Find a club by name, starting with the letter:
A B C D E F G H I J K L M N O P Q R S T U V W X Y Z Other


Victorian Hairwork Society
Contact: Marlys Fladeland
P.O. Box 806
Pleasant Grove, UT 84062
Phone: 801-785-7210
Fax: 801-785-6235
Website

A Web site & membership organization for networking anyone who is interested in the art of Victorian hairwork; includes articles on hairwork, instructions on braiding, items for sale, and much more; dealers, collectors, historians welcome.