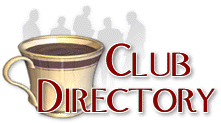 This directory lists over 2300 clubs related to Antiques and Collectibles
Click here to register your club -- Its FREE!
Find a club by name, starting with the letter:
A B C D E F G H I J K L M N O P Q R S T U V W X Y Z Other


Lamborghini Club America
Contact: James Heady
P.O. Box 649
Orinda, CA 94563
Phone: 925-253-9399
Website

We, at the Lamborghini Club America, extend to you, a fellow Lamborghini owner and/or enthusiast, an invitation to join our organization. The Club is a not-for-profit organization of Lamborghini owners and enthusiasts, and is the largest Lamborghini club in the world.

We are a group of Lamborghini owner and/or enthusiast who appreciate the quality and design of the Lamborghini automobile. The Club was founded in the 1970's and is the largest Lamborghini club in the world.



AS A MEMBER OF THE LAMBORGHINI CLUB AMERICA YOU RECEIVE:



* 2 issues of the LAMBORGHINI MAGAZINE and at least 1 Lamborghini Club newsletter; these contain technical information, road tests, members' mailbox, articles, international news, upcoming Club meets, and much more. The LAMBORGHINI MAGAZINE is a full size publication printed on the highest quality heavy gloss paper, with color cover, making this publication suitable to save for future reference.



* Free Classified Advertising – Lambo-related member's listings in print Classified Ads are free to members; Lambos for sale are also listed on the Club's web site.



* Information about and invitations to the Club meets: Pocono in May - June, the Lamborghini Club National Meet in Monterey/Laguna Seca in August, San Diego in the Fall, and East Coast events organized by Richard Solomon, Director, Northeast Region; our first track event is planned in California later this year.



* Information about and invitations to all factory special celebrations – the Club has given the tours to these events.



* Notification of and opportunity to participate in the Running of the Bulls events on both the West Coast and the East Coast.